Hungarian radios
One theme that passionate me in recent years are the old Hungarian's radios. Particularly I'm interested in People's Radios, Hungary language called "Néprádió" (radio of the people).
In Hungary, there was many radio's factories : Orion, Terta, Eka, Standard, Philips, Telefunken, Siemens and others.
Unfortunately during the Second World War almost all these factories were seriously damaged and some of them did not survived while others retarded start again their activities. The Orion was the only one that, having suffered little damage, retained a certain continuity of production even in the immediate post-war period.
After the Second War, from 1954, the factory Vadásztöltény began to produce radio with Videoton brand.
I'm very grateful to Mr. Selyem Tóth Sándor, who helped me to recover the information and the pictures about the old Hungarian radio factories.
Hungarian People's Radio hystory
My collection :
Orion 313 (with selenium rectifier)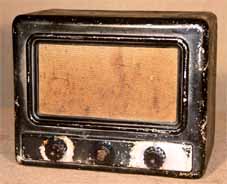 RAVA 313 (wood case)